Tiger Toys Data Center
i-Cybie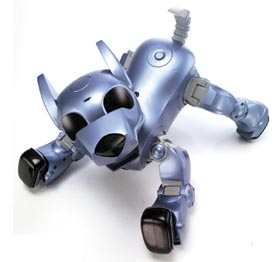 [...]
He uses 16 separate motors to control hundreds of actions with moveable head, tail, legs and mouth.
Intelligent sensors allow i-Cybie to avoid obstacles and prevent walking off the edge of a surface.
Advanced Voice Recognition Technology allows i-Cybie to respond and react like a real dog.
Senses night and day, sound, touch and motion.
Remote control included.
Interacts with all Robo-Chi™ pets and i-Cybie dogs.
Ages 14 and up.
[...]