Robots Resources for the Masses.

Tuesday, March 15, 2005
HITACHI
"EMIEW=Excellent Mobility and Interactive Existence as Workmate"
Akihabara News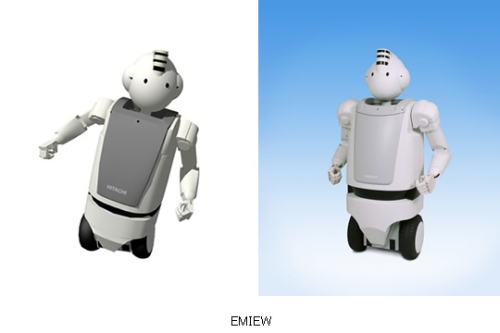 "Height 130cm
Weight About 70kg
Quickness Maximum acceleration 4m/s2
High speed 6 km/h in maximum running speed"
Technology News Article | Reuters.com
Japan's Hitachi Wheels Out Fast-Moving Humanoid
Tue Mar 15, 2005 05:13 AM ET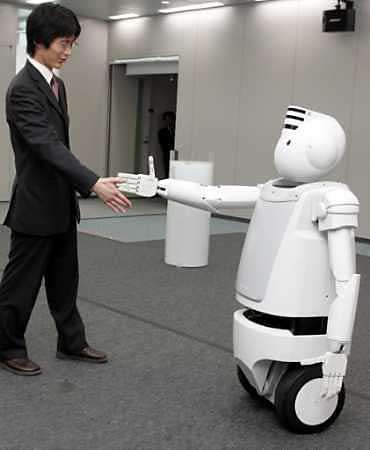 TOKYO (Reuters) - Pal and Chum look a little bit like first-graders on wheels, chatting up a storm and racing around the room.
For Hitachi Ltd., Japan's biggest electronics conglomerate, they are the next generation of humanoid robots.
Hitachi unveiled the "Emiew," its first humanoid robot, on Tuesday, saying it was the world's quickest-moving robot yet.
"We aimed to create a robot that could live and coexist with people," Toshihiko Horiuchi, project leader at Hitachi's Mechanical Engineering Research Laboratory Robotics Technology Project, told a news conference.
"We want to make the robots useful for people ... If the robots moved slower than people, users would be frustrated," he said, explaining why Hitachi bucked the industry trend and went for wheels instead of feet for its 4.22-feet-tall robot.
Hitachi built the two Emiews -- Pal and Chum -- for the World Expo, which will take place beginning later this month in Aichi prefecture, about 205 miles west of Tokyo.
[...]