eMuu Project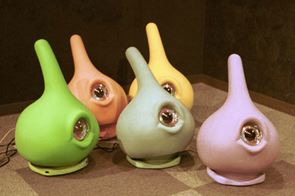 A salient feature of the ambient intelligent home of the future will be the natural interaction between the home and its inhabitants through speech.
An embodied home character, such as eMuu, could be the social entity necessary to provide natural dialogues. This character would have to be able to utilize the full range of communication channels, including emotional expressions, to give intuitive feedback to the user.
eMuu is based on the robot Muu, that was developed by Michio Okada. Muu focuses on the social bonding with humans. The character also works as an embodied interface that mediates the social bonding that people establish in everyday conversations.